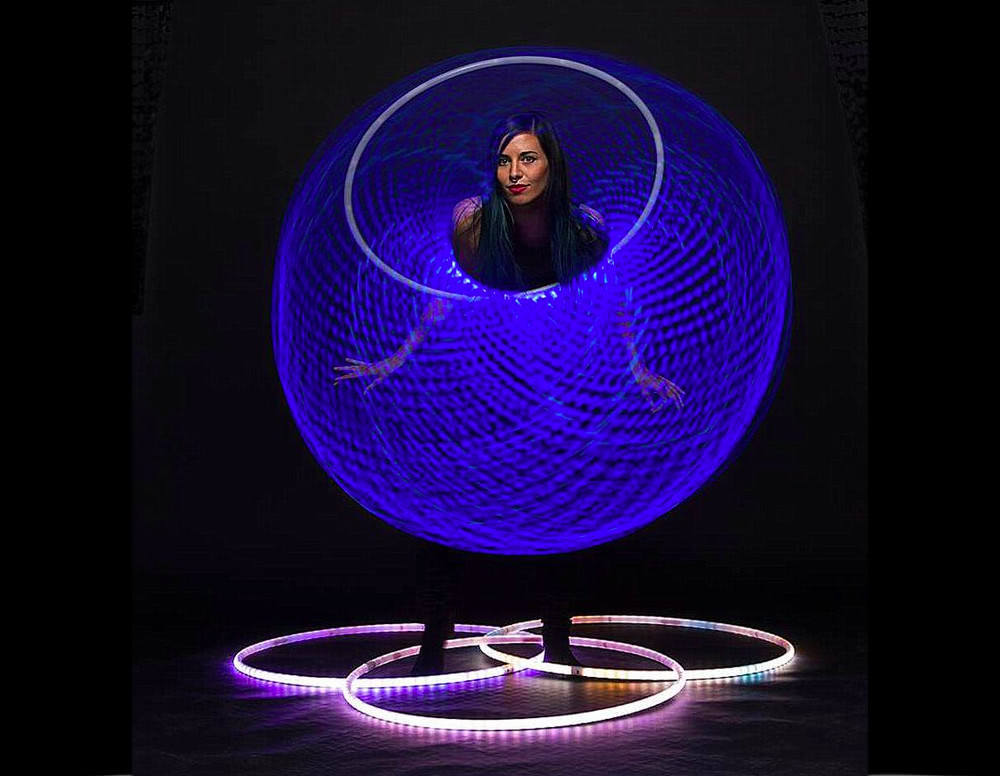 Safire is a world-renowned circus and fire entertainer, skilled in a variety of movement arts, and has a range of performance experience. She has performed in 15 different countries around the world, has almost 3 million views on her YouTube channel and has appeared in dozens of television spots, magazines, newspapers, blogs and more.
1. Tell us your roots - where were you born and raised? I grew up in Northern Alberta in Canada. A city tucked away in the Boreal forest, 5 hours north of any other major city. Fort McMurray is an oil town and as a young girl I was always encouraged that I could work in any field I wanted to, I could work on the oil rigs and do a "man's job". There were always tons of job fairs as a kid, encouraging women into these fields. The trouble was… none of it interested me. I was always a bit of a weird kid, very excited, wanting to explore everything, interested in the arts, and being creative. When it came time to pick a career path, I decided to get an art degree because visual art was the only thing I really enjoyed in High School.
2. Why hooping? How did the journey begin? After a few years in art school I choose to get a teaching degree as well, opting to become a high school art teacher. While in University, I met a girl who spun fire poi. When she acted very casually about it, like fire dancing was normal and anyone could do it, I was inspired to try it for myself. Literally the next day I was online, ordering a set of poi, spinning random things in my house and trying to figure out tricks she had done. That was April 2006. Fast forward to August when a friend brought me to Shambhala, an outdoor EDM festival in B.C. It was my first non-punk festival and my second ever "rave". I saw a girl fire hooping and she was beautiful. BAM, I was hooked and the hoop took over my flow practice full force.
Over the next year and a half I hooped obsessively and after 6 years of University I returned home and said "mom, dad, I want to be a professional hula hooper."
That was awkward...
In the end I decided to take the leap. I moved 5 hours to the city of Edmonton because I had booked one paid gig. I lived in the living room of a home with two Vietnamese girls in China Town and began my career as a 'hooper'. The only problem, I didn't know what that meant. So I decided to do everything. I taught local classes, tried to find performances, did public speaking, sold hoops, etc. The first year was a struggle to make ends meat but it's now been 8 years working as a hoop dancer and I wouldn't have it any other way.
3. What has the hoop taught you about life? How to teach myself ANYTHING. The great thing is I was learning how to hoop at the same time as I was learning how to teach through my education degree. I was able to apply those lessons to myself, the hoop, and to my early students.
In addition to working within the hoop world, I also work as an anti-bullying youth motivational speaker. I suffered from constant bullying and major stages of depression as a child. Learning to find my own happiness has been a very long journey and the hoop has helped me tremendously in that journey. The hoop has taught me how important it is to make decisions for yourself, based on your desires, not on the desires of others. People will call you names in life and tell you what you can and cannot do but it's you who has to live with the decisions you make. If you want happiness you have to follow your own path. The hoop has taught me that the things you need in life are out there, happiness is not handed to you, you have to work for it.
4. What's next? How is your hoop life evolving? Right now my focus is to create content for hoopers who have been in the hoop for years and are struggling with their practice. There has always been a lot of resources out there for beginners but as our community grows we will need new conversations and new information for long-term hoopers. I'm also working on re-fliming over 400 tutorials for my online hoop classes at http://www.hoopingclasses.com It's a tedious task but much of the content was filmed in 2009 and I have learned a lot more about how to teach the tricks covered so I want to improve the quality for my students.
5. What aspect of the hoop community do you value the most and what do you hope to contribute to the future of hooping? I am constantly appreciative of how welcoming and flattering the hoop community is. I still don't see myself the way other people do so I'm happy to have support on days when I'm feeling down. My contribution to the hoop community is to inspire people in their journey, to teach, and to invite others to share the hoop. In the future I would like to do tropical retreats for hoop teachers and performers. When I'm ready, I'm interested in creating retreats to help others find and discover their own path to happiness.