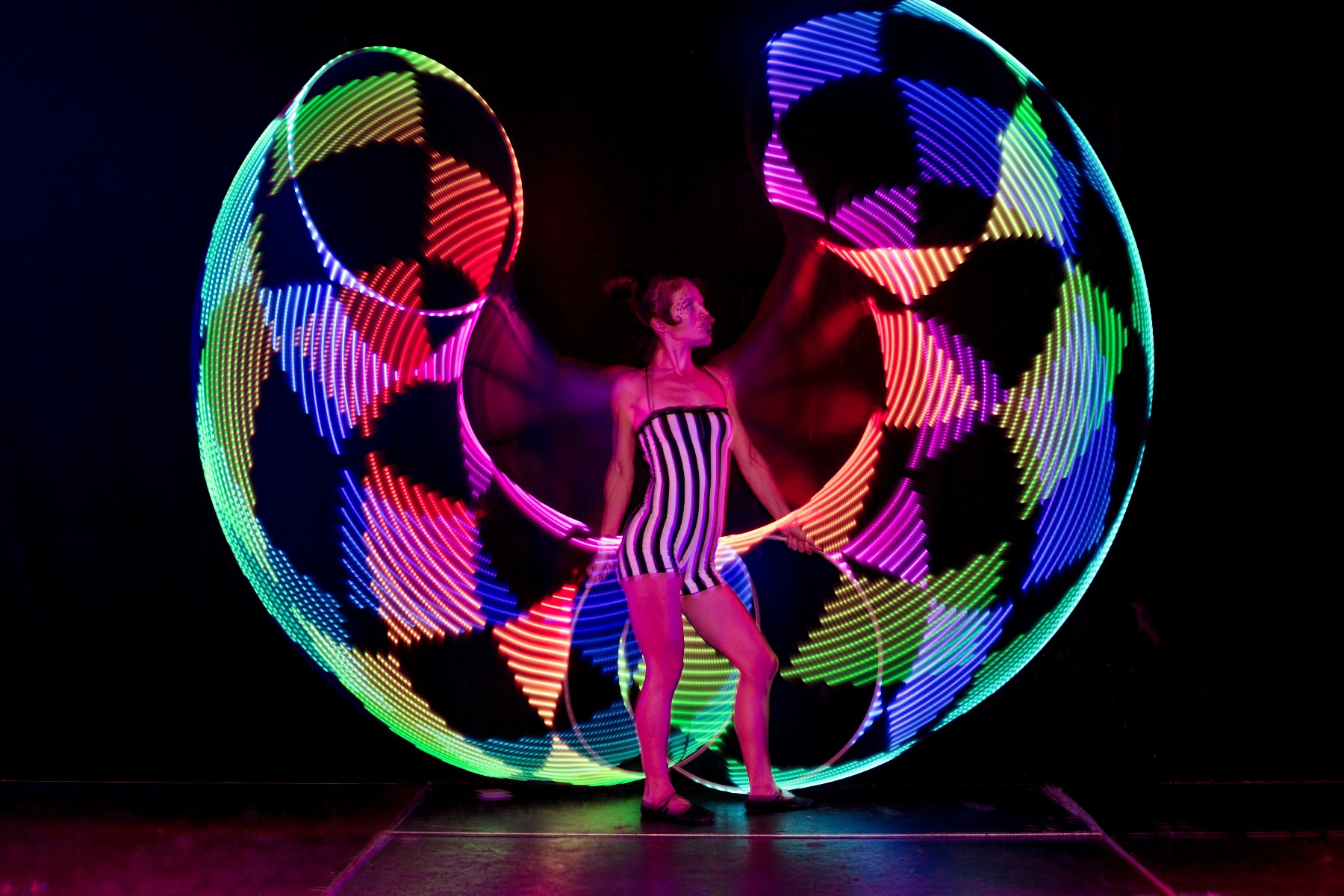 Buket Rin is a very curious and determined hooper who likes to embody different styles and ideas. She is based in Sweden and likes to tour around Europe whenever she can to share this passion of flow and fire. Apparently, hula hooping itself is not enough for her so she does whatever she can to add more skills from Sufi whirling to hat juggling and acrobatics to belly dance.
1. Tell us your roots - where were you born and raised? I was born and raised in Turkey and spend my life there until I was 28. The general climate was difficult for me to focus on myself and keep my sanity so I decided to find a way out and applied for a PhD in Sweden. Little did I now that I made the best decision that I could do for me. I got the PhD and directly moved to this Nordic country, where I had never been before. Since then, everything has just gotten better and better.
2. Why hooping? How did the journey begin? I started hooping when I was in Turkey. Back then I had a very good spinner community there who are still my dear friends. I was spinning on a quite basic level. But I was also spinning a bit of poi and doing Sufi whirling, performing for the tourist and earning some money. With all the intensity of life and my studies, I did not focus so much on improving myself, it was more of a side thing that I did for fun here and there. Later on, I completely stopped spinning and did not touch my hoops for 2 years. At the very end of 2014, I moved to Sweden. I brought two hoops just in case but I did not touch them again because I did not remember the tricks very well. After a while, in May 2015, I noticed the hoop intensive in Turkey, it was exactly the time when I wanted to visit my family and it was taking place in my good friends' place, TADAH. Hmmm I said why not? Maybe some inspiration, fun, seeing my friends and getting back into this hooping thing would be fun. The teachers were Emma Kenna, Lisa Lottie, and Satya Bella. It was full power hooping and learning so many things for many days. I met so many amazing people there from all over, such a beautiful group. I saw so many possibilities and I was more struck to hooping than ever. I went back to Sweden. With all the time I had in hand and with so little distractions around (where I live is super calm) I started practicing in my living room. I don't know what happened there but I suddenly leveled up so much. I just could not stop learning and creating. My hoop collection started growing and growing too.
3. What has the hoop taught you about life? So many things. What my body is capable of. Good and fun people are everywhere. I can do and learn anything if I really focus and put my intention to. I can express myself in so many ways other than talking. I can be so many different characters. Difficult and stressful situations (such as shows) can also be so much fun and it is noth worth being nervous for the small things.
4. What's next? How is your hoop life evolving? I feel like my hoop life has evolved so much already and I don't know where else it will take me to. Not only with the hoop but also with the other props and styles (such as poi fire skirt and a bit of fire eating) I have performed in some top fire festivals in Europe in a very short time. I have been teaching internationally and locally since 2017 and I could not ask for a better way of travelling and seeing the places than the conventions and festivals. My dream is to go further than that to teach and perform. To go overseas, see new places. I also want to expand my teaching skills more, teach Sufi whirling workshops all over (especially some of the amazing flow spaces that caught my eye in different continents).
5. What aspect of the hoop community do you value the most and what do you hope to contribute to the future of hooping? If you ask me 'What is the best things that came out of your hoop and flow journey?' I would say THE COMMUNITY. I have so many good friends all over the world through hoop and fire conventions I attend to regularly. So many of them have crazy skills and I can't wait to see what they come up with each year. I know that wherever I go, I can just find a hoop/flow sister or brother to connect with. As simple as that. This is the best community to be a part of :) My aim is to host new challenges (I love challenges) and do more online content for the community. If I join a convention (juggling, fire or circus convention) I always make time for teaching a workshop, to share what I can. I want to create more workshop content and also creative shows to inspire people.